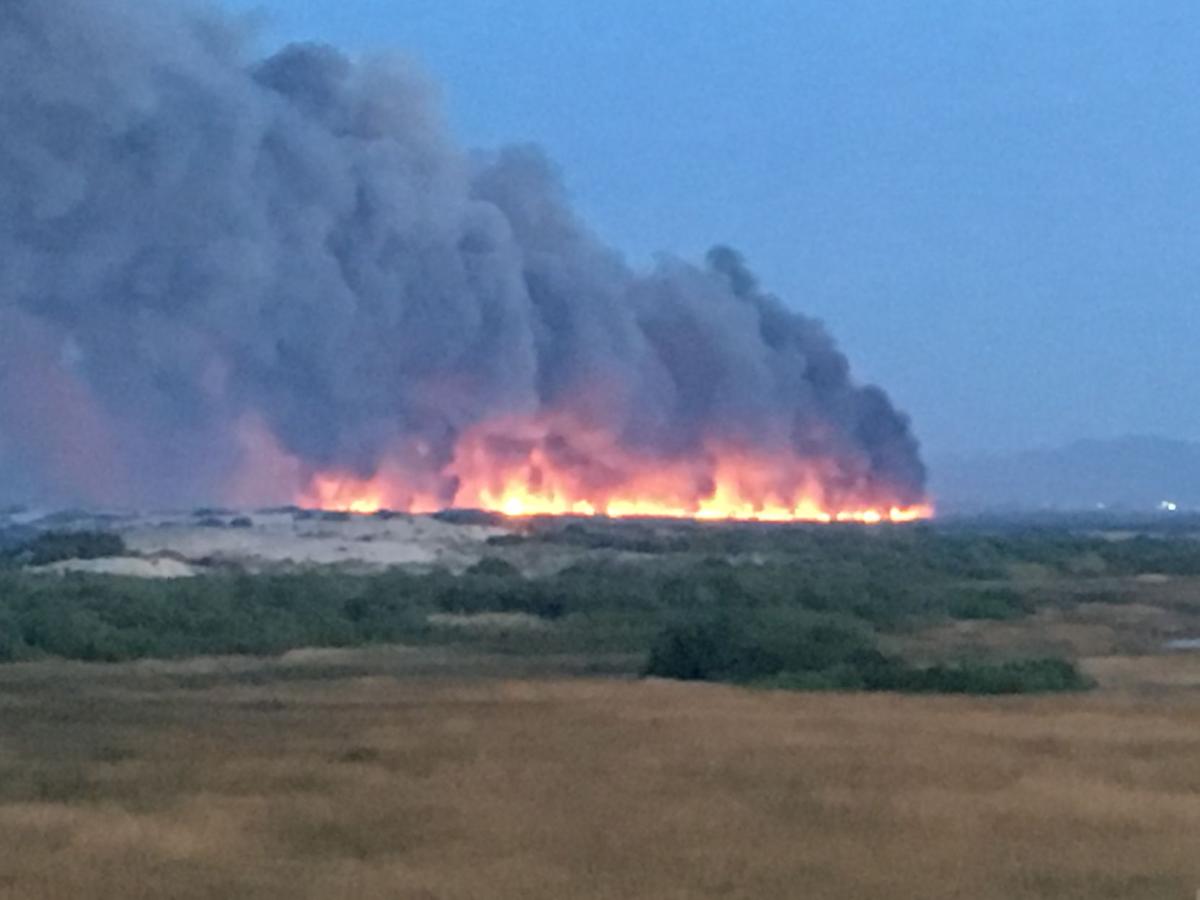 From the Havasu News Herald:
The Topock fire has burned 15 acres, according to authorities on scene.
A mandatory evacuation order includes Pirate's Cove. Jeff Allen, spokesman for the San Bernardino County Fire Department, says there is a road closure at Interstate 40 and Park Moabi Road. I-40 is still open at Park Moabi, but the off-ramps to Park Moabi are closed.
Chip Venezio, general manager at Topock66 Resort at 14999 Historic Route 66 said as of 10:10 a.m. the fire doesn't appear to be a threat to the resort that sits along the Colorado River to the south of Park Moabi. That could change, however, if wind direction changes, he said.
EARLIER: NEEDLES, CALIF. -- Winds swept a fire that began in Arizona across the Colorado River causing evacuations of Park Moabi Resort at 100 Park Moabi Road in Needles, Calif., according to Jeff Allen, a public information officer with the San Bernardino County Fire Department.
Allen could not confirm if the adjacent Pirate Cove Marina and Resort was also included in the evacuations. Both parks are included in the San Bernardino County's Moabi Regional Park.
Allen was also unable to immediately provide a location of where the fire was first reported on the Arizona side at around 5 a.m. this morning.
http://www.havasunews.com/news/topock-wildfire-prompts-evacuations/article_3164f348-fc0e-11e5-bad3-b3b82ff812d0.html
I am working in Lake Havasu and we are at least 15 miles from the fire and we can easily see and smell the smoke from the fire. The smoke is going south, down the Colorado River and I am sure you can see the smoke from the fire about Parker, about 45 miles from the fire.
Based on the scanner feeds, there are few, if any local fire departments fighting the fire, but I could be wrong.
The wind is blowing around 20-35 mph, so this fire is not going to be put out soon.
Update from AZ central:
A brush fire that started in western Arizona and jumped the Colorado River into California forced residents of two rural RV parks to evacuate Wednesday, authorities said.
The blaze, named the Pirate Fire, has burned at least 500 acres of salt cedars, mesquite and river-bottom vegetation on both sides of the river, with 450 acres involved in Arizona and 50 in California, according to the San Bernardino County Fire District.
It was reported at 4:30 a.m. in the Havasu National Wildlife Refuge, which spans both states.
http://www.azcentral.com/story/news/local/arizona/2016/04/06/crews-fight-wildfire-along-river-between-arizona-california/82703212/