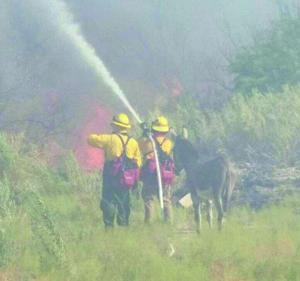 Maybe we found out what happened to Donkey in Shrek?
From the Lake Havasu News Herald:
In a rural area of the Mohave Valley, a lone burro approached Desert Hills firefighters as they fought the wildfire that began West of Lake Havasu City on Saturday.
The company of five firefighters was dispatched to an area near Bullhead City to provide structure-protection at about 1 p.m. Saturday.
Desert Hills Fire Chief Bell Weber, who was on the scene, says that the animal approached his company within the first hour of their arrival.
"The donkey approached us, and wouldn't leave our side," he said. "It seemed to be scared, and stayed with us the entire time we were there.
"The fire crew hosed the animal off, and allowed it to remain with them while they did their jobs.
http://www.havasunews.com/news/burro-seeks-comfort-with-desert-hills-firefighters-battling-willow-fire/article_bdbf89d8-3fcc-11e5-93f9-93d6c1d18b22.html