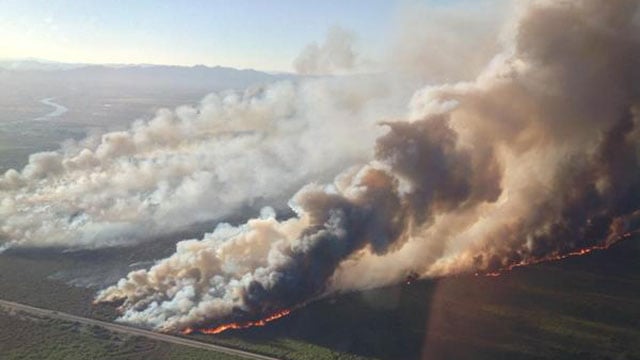 We saw the smoke in Kingman, about 50 miles away.
From KPHO Phoenix:
A raging brush fire has emergency crews evacuating 150 homes in Mohave Valley, which is south of Bullhead City in Mohave County.The evacuation affects homes along Courtright Road in the Delta City and Topock Lake Rancheros subdivisions, according to
JustSayNews.com
. The evacuation order for an estimated 450 residents south of Laguna Road and east of Vanderslice Road is mandatory.
The massive smoke plume from the Willow Fire, which is burning on the Havasu Wildlife Refuge north of Interstate 40, is visible for miles and even showed up on weather radar systems.
SLIDESHOW: Photos of the Willow Fire
Based on an aerial survey, the Willow Fire is estimated to be about 2,000 acres in size. Strong gusty winds of up to 25 mph could be an issue for crews on the fire lines.
The
Bureau of Land Management
is assisting with the fire. A Type 2 Incident Management Team has been requested and is scheduled to hold a briefing Sunday at 3 p.m.
About 20 engines are on scene already, and five crews are en route. Bulldozers are creating a fire line. According to BLM, those
dozers are making "good progress on containment."
The agency said several "existing area of minimal vegetation" are acting as "natural fuel breaks."
BLM tweeted a couple of aerial photos of the fire
, saying that the aviation supervisor on the incident observed very active fire behavior, including 75-foot flames.
According to BLM, salt cedar, willows, grass and brush are fueling the flames.
First responders are directing residents to a Red Cross shelter at Mohave Valley Elementary School, 1419 E. Willow Drive, in Mohave County.
It is not clear what sparked the fire.
Read more:
http://www.kpho.com/story/29742212/raging-brush-fire-forces-evacuations-in-mohave-valley#ixzz3iIHZ5F9N
I drive this way almost everyday to go to work, so it will be interesting to see what kind of damage this fire will cause.
And my guess it was started by lightening as we have had severe thunderstorms in the area Thursday and Friday.