We almost had a Darwin Award nominee when a lady fell into a monster hole while visiting Grand Canyon West
From the Kingman Daily Miner: Mohave County Sheriff's Search and Rescue units pulled a woman out of a crevice near the Grand Canyon West Skywalk Tuesday afternoon.
According to a sheriff's spokeswoman, the Department of Public Service Ranger helicopter called for a rope rescue after a 70-year-old Illinois woman fell into a deep crack about 10 yards from the edge of the canyon.
The victim had fallen about 50 feet and wedged herself during the fall, preventing her from dropping to the bottom. She fell a few more inches every time she took a breath.
Hualapai Nation Fire and EMS personnel initially responded to the scene and called for additional resources. Ten SAR members responded by helicopter from Kingman while additional SAR members drove to the scene.
Here is a picture of the scene, compliments of the Mohave County Sheriff's Dept: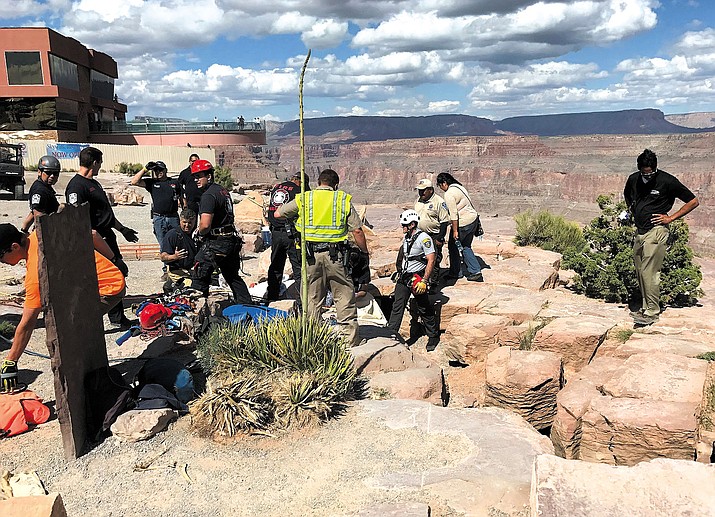 Let's see. 10 feet from falling into the canyon. Check.
Not watching wear she was. Check.
Falls down a large hole at least 50 feet deep, probably wearing flip flops. Check.
Yep, an almost Darwin Award nominee, except she lived.
Darwin Award: The Darwin Awards salute the improvement of
the human genome by honoring those who
accidentally remove themselves from it...