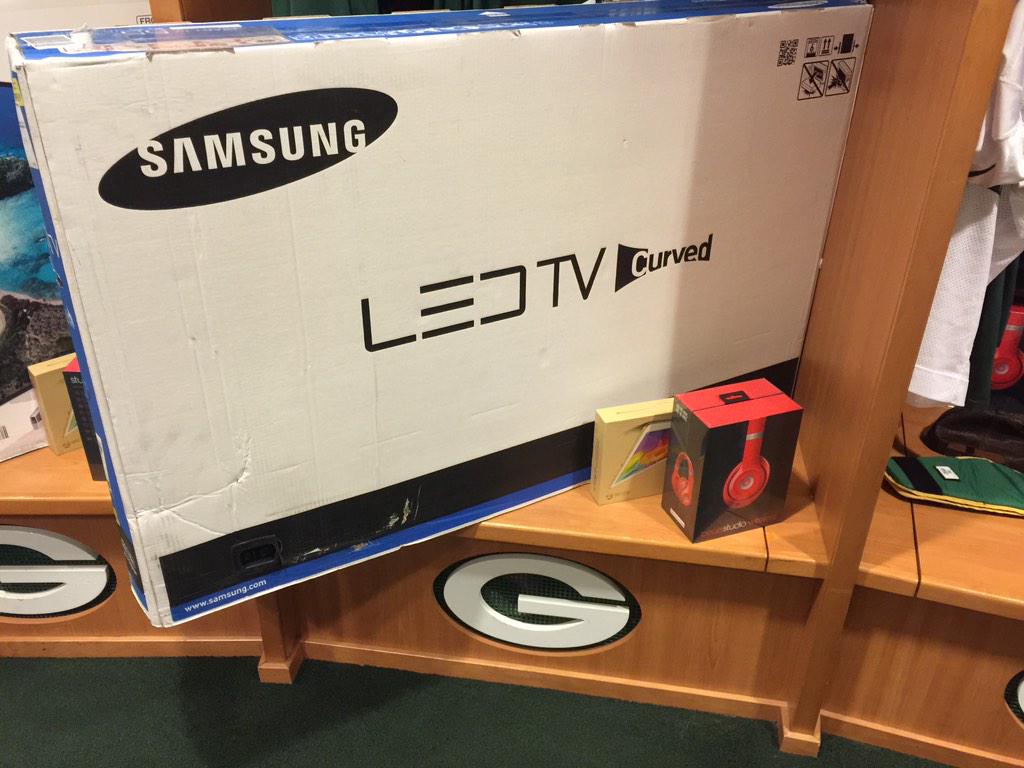 From ESPN:
Aaron Rodgers
' calf injury limited him in practice on Wednesday, but it didn't prevent the
Green Bay Packers
quarterback from playing Santa Claus on Christmas Eve.
When Rodgers' offensive linemen -- including the reserves and practice-squad players -- and backup quarterbacks showed up at Lambeau Field, they found 55-inch Samsung curved smart TVs, tablets and Beats headphones in their lockers courtesy of their Pro Bowl quarterback.
"He's a hell of a dude, and we've had a hell of a year for each other," said Packers guard
Josh Sitton
, who like Rodgers was voted to the Pro Bowl on Tuesday. "He just wanted to thank us. We definitely appreciate it. It's nice to be appreciated. We appreciate being appreciated."
Sitton added that Rodgers didn't want anyone to know about the gesture.
It prompted Packers right tackle
David Bakhtiari
to nickname Rodgers "Aaron Claus."
Bakhtiari knew about the gesture beforehand but only because he helped Rodgers deliver the gifts to the locker room.
"I may or may not have been an elf the night before," Bakhtiari said.
Rookie center
Corey Linsley
was perhaps more surprised than anyone. He said he received a text message that said his gift was in, but he had no idea what that meant.
"I mean that's just his characteristic, a characteristic of who he is," Linsley said. "It's not that I expected that by any means, but it's like when he does something like that, it's like, 'That's Aaron. That's who he is.' "
Rodgers is perhaps the leading contender for the NFL MVP and with one game remaining, he has been sacked only 28 times this season, which would be the fewest in any of his seasons as a starter other than 2013, when he missed seven games because of a broken collarbone.
http://espn.go.com/nfl/story/_/id/12077470/aaron-rodgers-green-bay-packers-buys-linemen-backup-quarterbacks-tvs-tablets-headphones
Rodgers is a class act and I am sure he has made many donations to the poor and the disabled as well as his teammates.