From Fusion.net:
Three cardboard cutouts of black people were reportedly found hanged in effigy from nooses on the UC Berkeley campus on Saturday morning.
The incident follows a week of protests on the streets of Berkeley, California, to denounce the grand jury decisions not to indict white police officers in the deaths of two unarmed black men in St. Louis and New York.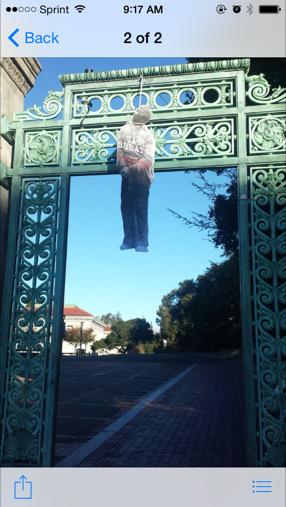 http://fusion.net/story/33826/black-figures-hanged-in-effigy-on-uc-berkeley-campus/
I am willing to bet that these are hoaxes, mostly likely done by liberals to draw sympathy to their cause.
There have been many, many cases of where liberals have claimed racism, rape, assault etc,.and it turns out that these allegations are hoaxes. We just had 2 cases where liberal writers have accused a fraternity and a man of sexual assault but later it turned out that these claims were false.
And since Berkley is probably about 99% liberal, chances are that some liberals were able to walk around with the mannequins without anybody saying anything and then hang them up.
I think within 10 days, this incident will be shown to be a hoax.