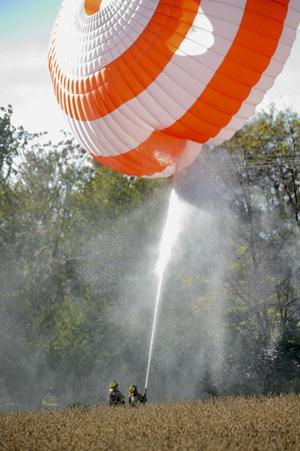 2 people are alive because of their airplane, which was involved in a crash with a helicopter, deployed a parachute as they crashed.
From the Fredrick News Post:
Three people are dead after a small plane and helicopter collided near Frederick Municipal Airport Thursday afternoon.
The crash was reported at around 3:45 p.m. near the southwest corner of Frederick Municipal Airport. Police did not release the names of the people involved.
The helicopter crashed into a storage facility near the scene, according to Maryland State Police spokesman Greg Shipley. The plane went down off Monocacy Boulevard in a tree line. The storage facility where the helicopter crashed is at Highland and Monroe streets, just south of where the plane went down.
Maryland State Police spokesman Greg Shipley said officers did not know of any people being ejected from the aircraft.
The three dead were from the helicopter, said Denise Pouget, Frederick County fire chief. The two occupants of the airplane were transported by ambulance to Meritus Medical Center, both adult males, according to a Meritus spokeswoman. The hospital discharged the men to their families at about 6:45 p.m.
Pouget said the helicopter broke into pieces upon striking the ground. The airplane deployed a parachute, helping it descend into the trees, she said.
http://www.fredericknewspost.com/public/three-dead-in-airplane-helicopter-collision-near-frederick-municipal-airport/article_2438c154-5aed-11e4-8c2e-001a4bcf6878.html