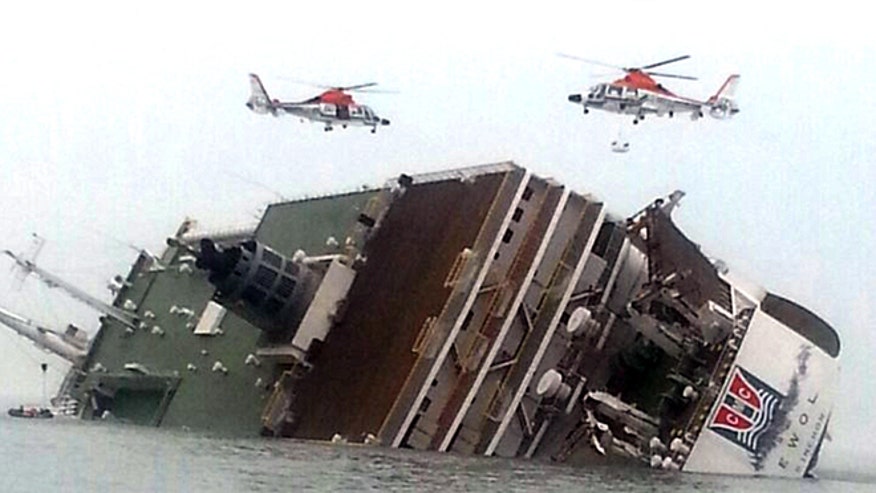 From Fox News:
South Korean officials said Wednesday that nearly 300 people were still missing several hours after a passenger ferry sank off that country's southern coast, leaving at least two dead and seven injured.
A government official had said earlier Wednesday that around 100 people were unaccounted for, but the number was later revised upward due to a tallying error.
The ferry was carrying 477 people, most of them high school students, and was bound for the island of Jeju when it sent a distress call at around 9 a.m. local time Wednesday as it began leaning to one side, according to South Korea's Ministry of Security and Public Administration.
The government said about 95 percent of the ship was submerged.
Two coast guard officers told the Associated Press that a 27-year-old woman named Park Ji-yeong and another unidentified person had died. Both spoke on condition of anonymity citing department rules.
Media photos showed wet students, some without shoes, some wrapped in blankets, tended to by emergency workers. One student, Lim Hyung-min, told broadcaster YTN from a gym on a nearby island that he and other students jumped into the ocean wearing life jackets and then swam to a nearby rescue boat.
"As the ferry was shaking and tilting, we all tripped and bumped into each another," Lim said, adding that some people were bleeding. Once he jumped, the ocean "was so cold. ... I was hurrying, thinking that I wanted to live."
http://www.foxnews.com/world/2014/04/16/south-korea-ship-with-471-people-aboard-is-sinking-authorities-say/
Sad irony: The Titanic sank 102 years ago, on April 15, 1912.