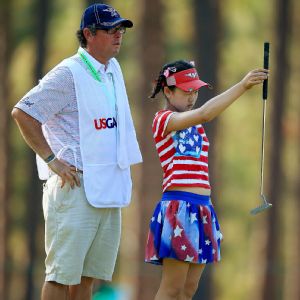 From ESPN:
Lucy Li showed her age only when she finished her historic round Thursday at the U.S. Women's Open.
Just like any 11-year-old, she went straight for an ice cream.
The youngest qualifier ever at the Women's Open played a grown-up game at Pinehurst No. 2, except for three holes that made her 8-over 78 look a lot worse than it was and stretched the odds of her becoming the youngest player to make the cut.
"She looks 11. She doesn't talk 11. And she doesn't hit the ball like she's 11," said Catherine O'Donnell, who played with her in a sun-baked opening round on a course that only four days ago hosted the men's U.S. Open.
The sixth-grader from the Bay Area was the star attraction, right down to her Stars & Stripes outfit to celebrate the occasion. She wore a mid-drift shirt patterned after the American flag, with a similar motif for a skirt, complete with silver stars that matched the color of her braces.
Li wound up 11 shots behind leader Stacy Lewis, the No. 1 player in the world
who opened with a 67
. But one moment was telling.
The kid made a 7-foot birdie putt on the par-5 fifth hole and headed to the next tee, her braided pigtails swinging with each step. The media and a large gallery followed her right past the adjacent green, where hardly anyone noticed Lewis making her way around Pinehurst with no bogeys.
Only this was more than just a sideshow.
http://espn.go.com/golf/story/_/id/11108099/lucy-li-11-cards-78-historic-us-women-open-round
No, this was a sideshow.
By allowing an 11 year old in a LPGA Women's Open, a major, degrades the sport and makes you wonder if any of these women could actually play on a varsity high school golf team. Well, maybe a not very good team, but a notch team, no way.