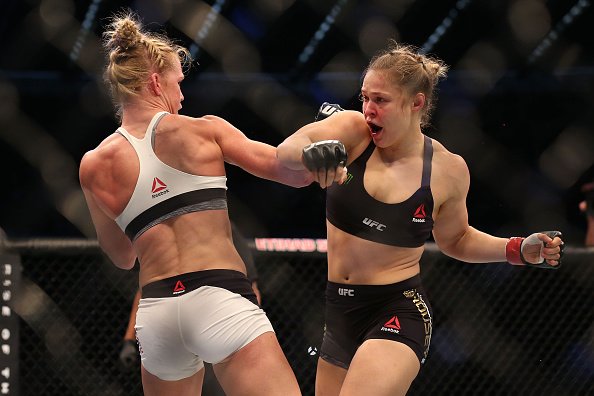 Ronda Rousey was just knocked out and may be hurt by Holly Holm in the 2nd round, in a fight down in Melbourne, Australia.
This will go down as one of the biggest upsets in female sports and probably in the top 20 of all sports.
Update: From ESPN:
Former world boxing champion Holly Holm (10-0) scored the biggest upset in the sport's history Sunday, knocking out Rousey (12-1) with a left head kick in the second round to claim the UFC bantamweight championship fight. The fight headlined UFC 193 inside Etihad Stadium, which was the first MMA event ever held in Melbourne.
The shocking result came 59 seconds into the second round, after Rousey had already been stunned several times by left hands. After Rousey ducked in desperately for a clinch, Holm broke off at an angle and landed a clean left head kick to the jawline that rendered Rousey unconscious. Referee Herb Dean stepped in immediately, as Rousey fell limp, arms extended, to the canvas. Rousey was taken to a hospital after the fight.
http://espn.go.com/mma/story/_/id/14133416/holly-holm-kos-ronda-rousey-second-round-ufc-193
I do hope Ronda is alright because you never want to see someone completely knocked out.
But you have to wonder if she took this fight for granted and she underestimated Holm.